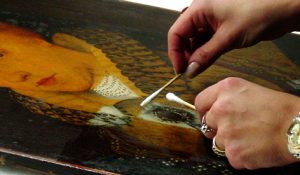 Fine Arts Conservation, Inc
(FACI) opened in 1984, is represented by
Abraham Joel
and
Barbara Bertieri
.  With decades of working experience, their specialties are in management of international projects, paintings conservation and other areas of expertise as viewed on the website.
As consultant conservator to the Chhatrapati Shivaji Maharaj Vastu Sangrahalaya (CSMVS), Mumbai, Abraham Joel headed the development of conservation studios as well as the management and study of the European paintings collection.  To view project details, go to International Projects – Chhatrapati Shivaji Maharaj Vastu Sangrahalaya (CSMVS).
Funded by the Tata Trust Fund, Barbara Bertieri, consultant paintings conservator to CSMVS, completed restoration of three Tata portraits in the permanent collection (2004). This bold decision by the Director Dr. Kalpana Desi to undertake the restoration of the Tata portraits prior to the establishment of a fully functional conservation facility laid the ground work to fund the restoration studios.  To view painting details, go to International Projects –Tata Portraits.
In 2004 and again in 2006 the Samuel H. Kress Foundation awarded grants to Abraham Joel for the study of the European Paintings collection and commencement of restoration of Antoine Dubost's "Sword of Damocles".  The attribution, in 2004, of the "Sword of Damocles" to Antoine Dubost by Richard Spear, consultant curator to the European paintings collection at CSMVS, was confirmed during the crucial undertaking of cleaning in 2006 when the signature of the artist was revealed.
In 2005, the Asian Cultural Council (an affiliate of the Rockefeller Brothers Fund) granted Abraham Joel with specific funds to develop plans for the CSMVS restoration studio and selection of equipment.  Together with Dr. Kalpana Desai and the curatorial staff, a multifunctional space was designed with sufficient flexibility in its design and selection of equipment that would permit the entire space to be devoted, if necessary, to the conservation of any curatorial specialty.
 ABRAHAM JOEL

Prior to opening FACI, Abraham Joel was Head of Conservation at The Detroit Institute of Arts, 1977-1985. The collection may be viewed at: http://www.dia.org/. As Head Conservator, he directed twelve sections including Paintings, Paper and Objects. He established and directed Textiles, Scientific Research, Mount Fabrication, Frame Restoration, Documentation, Conservator of Exhibitions and a Technical rare book library. Additionally, he designed and implemented study centers in lieu of traditional storage facilities and brought in Conservators under contract – American and European furniture.
Abraham Joel was elected Fellow of the International Institute for Conservation of Historic and Artistic Works (IIC) in 1983.

LISTS OF PUBLICATIONS ARE AS FOLLOWS:
Joel, N. Indicator, J.F. Hanlan, and N.S. Baer, The Measurement and Significance of pH in Paper Conservation, Bulletin of the American Group-IIC, 12, No.2, April 1972. p. 119-125.
N.S. Baer, N. Indictor, A. Joel, The Aging Behavior of Impregnating Agent-paper Systems as Used in Paper Conservation, Restaurator, Vol.2. No.1 1972. p. 5-23.
N.S. Baer, N. Indicator, A. Joel, An Evaluation of Glues for use in paper conservation, Conservation of Paintings and the Graphic Arts, IIC, Lisbon Congress,  1972. p. 601-612.
N.S. Baer, A. Joel, R.L. Feller, and N. Indictor, Indian Yellow, Artists' Pigments A Handbook History and Characteristics, Vol.1, National Gallery of Art, Washington, 1986. p. 17-36
Susan E. Schur, Editor, Technology and Conservation, Laboratory Profile: The Conservation Services Laboratory of The Detroit Institute of Arts, 3/83, 1983. p. 26-40 (CSL reviewed)
BARBARA BERTIERI

Barbara Bertieri joined Fine Arts Conservation, Inc in 1992.  The numerous projects that she has undertaken and supervised can be viewed on the website.  From 1988 to 1992, she operated her own conservation studio "Artes" in La Spezia, Italy, specializing in the restoration of paintings and ceramics.  She also taught the techniques of old master paintings to private students and was invited by the organizers of the ex tempore art meeting "Calandriniana" in Sarzana, Italy, with the purpose of explaining medieval painting techniques on panels.  Her experience in instruction is extremely valuable when undertaking the training of students at CSMVS, Mumbai.  From 1983-1988 she was a conservator at "Centro Zero", a studio owned by Professor Almo Del Sarto.
Works by the following artists have been conserved:
A
Aitken, Doug
Albers
Appel
Ara
Arakkal
B
Baechler, Donald
Basquiat
Bawa
Beckmann
Bellows
Beuys
Braque
Baij
Barwe
Bendre
Bhattacharjee
Broota
Burman
C
Calder
Cassatt
Chagall
Copley
Caur
Chhabda
Chowdhury
D
Dali
Daumier
Degas
de Kooning
De Chirico
De Stael
Dix
Dubost, Antoine
Jutin Das
Sunil Das
Anju Dodiya
Atul Dodiya
F
Feininger
Frankenthaler
Funk, Karel
Fuss
G
Gaitonde
Gorky
Grosz
Goud
Gujral
Gallace, Maureen
Gilbert & George
Graham, Rodney
H
Hals
Homer
Hopper
M.F. Husain
Hebbar
Hore
Hepworth, Barbara
Hesse, Eva
Held, Al
K
Kandinsky
Keifer
Kirchner
Kollwitz
Krasner
Khakhar
Khanna
Kolte
Ram Kumar
Kilimnik, Karen
Klein, Yves
Kline, Franz
Kooning, William de
L
Lavery
Leger
Lichtenstein
Louis
Lutter
M
Manet
Matta
Miro
Malani
Tyeb Mehta
Menon
Mitchell, Joan
P
Picasso
Pollock
Polke
Poussette-Dart
Padamsee
Madhvi Parekh
Manu Parekh
Patwardhan
Pyne
R
Redon
Reinhardt
Rivera
Richter
Renoir
Rivers
Rodgers and Hammerstein Archives
Rosenquist
Rothko
Roy
Raza
Ravinder Reddy
Rodwittiya
Resnick, Milton
S
Saint-Phalle, Niki de
Salle
Samant
Shannon,
Amrita Sher-Gil
Snyder
Soulages
Souza
Sabavala
Santosh
Gulammohammed Sheikh
Arpita Singh
Subramanyan
Swaminathan
T
Tooker
Toulouse-Lautrec
Rabindranath Tagore
Gaganendranath Tagore
W
Ward,
Warhol,
Weber,
Whistler
Williams, Sue